Go back to list of posts
Real Estate
Networking
8 Proven Professional Networking Tips For Realtors
December 2, 2021
Networking is more than just a job requirement. It's an essential part of building your business and developing lasting relationships with colleagues and clients. Here are eight proven ways to network professionally as a realtor.
Share the article

Use These Ideas To Bring Your Real Estate Networking To The Next Level
As a realtor, you know that you need to make your own luck and build your client base to be successful. The best part of the real estate industry is that there are opportunities all around you, especially if you have a strong network. 
Whether you are a new real estate agent or already have an established real estate business, your professional network matters. 
Building relationships with clients and other real estate professionals is crucial for building your reputation and identifying connections that offer the best potential for lead generation or referrals. 
But how do you leverage your professional network into critical opportunities that will drive your business forward? 
Take a look at why professional networking is vital to realtors, who you need to connect with, and 8 tips to bring your networking efforts to new heights.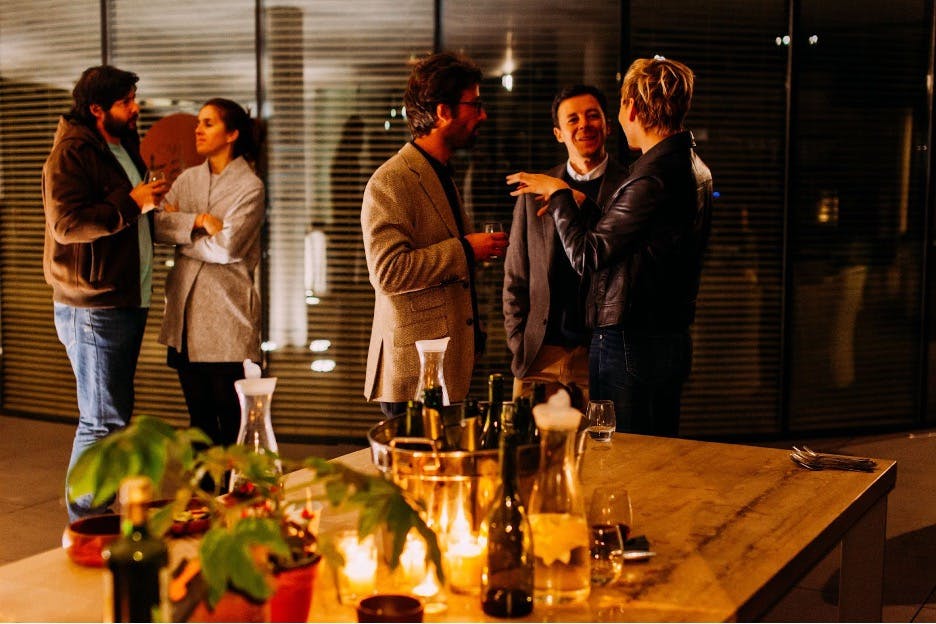 Why Is Networking So Important In Real Estate?
It's no secret that relationships are the cornerstone of the real estate industry. Clients trust you to negotiate contracts, host open houses, and offer referrals when they need them most. 
This means that networking is one of the most important skills you can develop to advance your career as a realtor. Building a robust professional network offers many benefits, including: 
Increased confidence 
Strong business connections 
Greater professional exposure 
Access to more job opportunities 
Fresh ideas
Remember that real estate networking isn't just about gaining new clients. Build out your network through partnerships with other realtors, lenders, contractors, and other entrepreneurs who can offer guidance and advice. 
Having established connections with other entities in the real estate market will help improve your customer's experience and allow you to work with others who can improve how your own business operates. 
How Do I Network Myself As A Real Estate Agent?
As a real estate agent, you know that relationships drive your business forward. Between showings, contracts, and referrals, you need to develop solid connections to do your job effectively. 
To build great relationships that nurture your real estate business, you're going to need to find networking opportunities. 
Networking is the process of building relationships that are mutually beneficial and provide opportunities for career advancement. You'll want to find people looking who need the services of a real estate agent to buy or sell property. 
To build relationships with potential clients, you have to play it smart. There are several ways you can network yourself as a real estate agent while still focusing on relationship building: 
Attend A Real Estate Networking Event: These dedicated meetups are great for networking newbies because everyone in attendance has the same goal: to build their professional network. 
Be Willing To Meet New People: Networking opportunities are all around you. Be willing to strike up conversations with people at the gym, shopping center, or local park. 
Connect With Local Organizations: Your local chamber of commerce or networking groups are great places to start to network your realty business. 
Volunteer Your Time: Community events are a great way to connect with locals and show that you are invested in the area. 
Remember that networking is all about relationships, so be sure to demonstrate that you are interested in the person more so than the opportunity. 
Take the time to get to know those you meet while networking and carry a digital business card so that you are always ready to trade contact information. 
How Do I Network With Real Estate Investors?
To many realtors, the real estate investor is the white whale of the industry. 
A typical homeowner will buy property once every five to seven years if that. However, real estate investors will purchase property whenever an opportunity arises, meaning agents have more opportunities to close deals. 
But just like with any client, you'll need to build strong relationships before offering your services as a realtor. 
Here are some ways you can network with real estate investors. 
Attend Local Meetings: If you want to catch the attention of investors, you'll want to find opportunities to connect in person. Search for local meetups dedicated to investors and attend to get your business noticed. 
Be Strategic Online: Post your listings across all social media sites. You'll gain maximum exposure with little effort if you build web posts and link back through social media. 
Subscribe To Industry Publications: Part of networking is doing research. Subscribe to local and regional real estate magazines to learn who's who and what's trending in real estate investment. 
Develop A Strong Call To Action: You won't generate leads unless you have something to offer investors. Spend time researching promising investment properties in your local market. Post a call to action regularly that demonstrates your knowledge of real estate investments. 
Attracting real estate investors and persuading them to utilize your services takes more than just a few casual face-to-face conversations. 
You need to prove that you are a knowledgeable real estate professional with an extensive network they can count on. 
Let's take a look at eight networking tips you can use to strengthen your professional network. 
8 Professional Networking Tips For Real Estate Professionals
For many professionals, the idea of networking makes their anxiety soar. Striking up conversations with strangers and squeezing in an elevator pitch seems impossible. 
But the basis of professional networking isn't selling yourself as a real estate agent. It's building relationships with others who can help you in your time of need and vice versa. 
Let's take a look at eight tips you can use today to improve your networking efforts and find opportunities to build out your professional network. 
1. Amp Up Your Online Presence 
While face-to-face interactions are essential for building relationships, you can start the process online by enhancing your online presence and strengthening existing virtual contacts. 
Review your existing social media profiles on popular sites like LinkedIn, Facebook, and Instagram. Make sure your profile is authentic and represents who you are as a professional. Use a professional profile picture and ensure your contact information is up to date. 
Follow people within your existing network and branch out to companies and influencers they follow. Post helpful content paired with trending hashtags and strike up conversations to meet new people in your industry. Use these posts as opportunities to build relationships that you can move into the real world. 
Social media isn't the only way to meet people online. Stay active in local community forums and neighborhood groups. This is a great way to meet people and scope out who may benefit from connecting with you. 
2. Take A Class
Learning a new skill is a great way to meet new people. While professional development classes can improve your real estate skills, the courses or seminars don't need to be related to real estate. 
For example, pottery classes attract people who like to work with their hands. Fitness classes are another great way to meet like-minded individuals. 
Choose a class that repeats so you have multiple opportunities to meet the people in your class. If this isn't an option, choose a class that has people that interest you in the group. 
Either way, take the time to introduce yourself and use the class events as an ice breaker. 
3. Find A Hobby 
Your hobbies say a lot about you as an individual. They are also a great way to destress and take your mind off of work. 
Pursuing a hobby can lead to an abundance of networking opportunities. Because hobbies are meant to make you happy, they will put you in proximity with other people who are in high spirits. 
Look for a local meet-up for your hobby. Whether it is a crafting group, book club, or open mic session, you'll be able to meet new people and expand your professional and personal network. 
4. Become A Regular
In the real estate industry, you must be trustworthy.  Familiarity leads to trust, so if you are a familiar face at local establishments and events, you're more likely to attract promising leads. 
Become a regular at neighborhood restaurants, coffee shops, and other local businesses. Build connections with the employees, business owners, and other regulars to establish yourself as a local. 
As you build these relationships, you'll solidify yourself as a go-to real estate agent should the need for one arise. Your name and face will be called to mind if anyone mentions they need real estate services. 
5. Join Some Committees 
Real estate agents know that having an essential role in the community is necessary for business success. 
People will view you as a local, credible professional if you appear on various boards or committees. Additionally, you'll be able to offer some expert knowledge on the local community and, in return, may receive some real estate leads. 
6. Put Your Pets To Work 
If you are a pet owner, you know that people have strong connections to their furry friends. This bond can help you put your pet to work when it comes to your networking efforts. 
Your pets won't be on the payroll, but they can help you meet more people. Look for "pet parent" groups and allow your pet to network while you do. 
You can also bring up your pet as an ice breaker during networking events. This will show the other person your softer, nurturing side. 
If you have a friendly dog, consider visiting the local dog park and talking to other dog owners to build relationships. You never know who may turn into an essential member of your professional network. 
7. Join The Chamber Of Commerce
Your local chamber of commerce can be an excellent source for business connections in your community. 
Nearly all towns and cities will have one that is open to all local business owners. Join your local chamber of commerce and attend their events regularly. Even if there is a registration fee, it's a small price to pay for all the networking opportunities it will yield. 
Don't stop there: consider donating your time and money to events hosted by the chamber of commerce. This will show locals that you are a dedicated member of the community.  
8. Say "Yes" More Often 
Networking isn't always easy. When you're looking to build your network, consider focusing on saying yes to requests in your life. 
This doesn't mean you should become a doormat. If a friend invites you out to drinks, say yes. If a person at a networking event recommends joining another group, say yes and attend. 
Remember, the more you put yourself out there, the more likely you will find quality connections. Naturally, never over promise or say yes to something that makes you uncomfortable. 
But by setting your mindset to "yes" rather than "maybe," more networking opportunities will naturally arise. 
Use Professional Networking To Make Your Real Estate Career Soar
As a real estate agent, one of the most crucial things to focus on is building your professional network. Your career depends on you meeting new people and cultivating meaningful relationships that lead to trust and opportunities. 
Keep your eyes peeled for different networking opportunities, even when you are off the clock. Keep an open mind and, during each interaction, think about how you can help the other person. 
Before long, you'll be able to build your network quickly and celebrate when business is booming. 
FAQs
How can I gain more referrals? 
Agent networking is a great way to gain real estate referrals, especially when starting out in the industry. 
What are the top networking events for real estate agents? 
The top networking events for real estate agents include community events, webinars, and events for related industries. 
What is the difference between a realtor and a real estate agent?
A realtor is a licensed real estate agent or broker who is a member of the National Association of Realtors (NAR). In contrast, a real estate agent has a professional license who can help people sell, buy, or rent real estate.