Go back to list of posts
Real Estate
Networking
What Are The Top Networking Events For Real Estate Agents?
October 11, 2021
Whether you're new to the real estate industry or a seasoned professional, networking with your colleagues and potential clients. Learn more today!
Share the article

Attending Realtor Networking Meetups Is The Key To Growing Your Business 
With the real estate industry thriving, realtors work overtime to build their businesses and secure new clients.  
Real estate professionals know that they need to build relationships to get ahead. You also need to be aware of new industry developments and gather essential referrals to attract new business leads. 
The best way to accomplish all of these objectives is to amp up your networking efforts. 
No matter what area you serve, real estate agents must network with potential clients, lenders, and real estate investors to identify the high-quality leads that will bring in business. 
Plus, by building your pool of potential clients and colleagues, your work is already half done! 
So, how do you network at a real estate networking event? Is that the only place a real estate agent can network effectively?
Let's look at who attends these networking meetups, what buyers are looking for in an agent, and where to find the best networking opportunities for real estate agents to grow their network.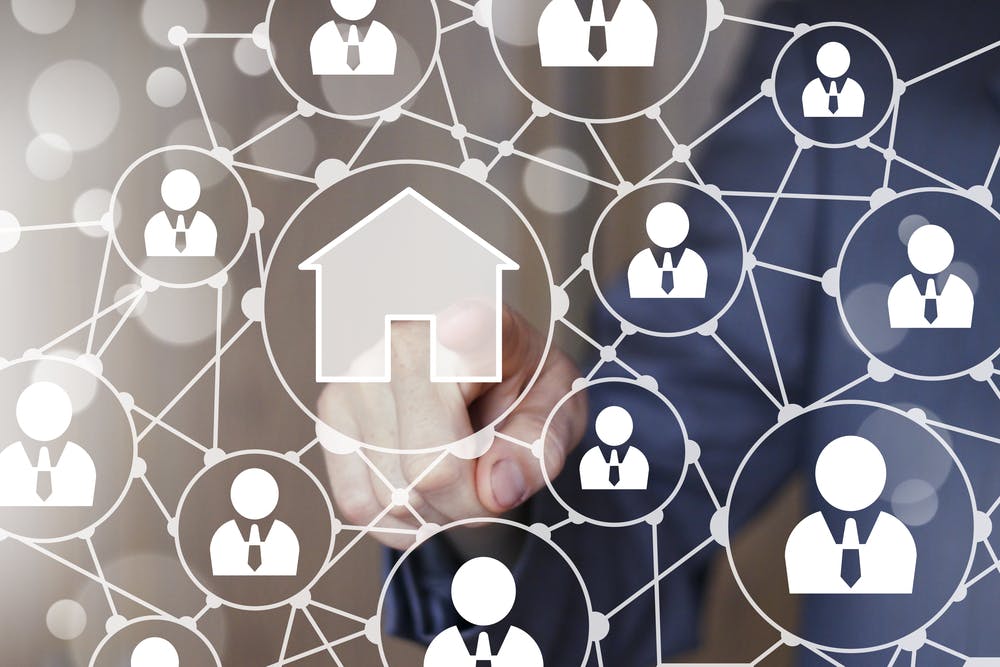 Photo by Austin Distel on Unsplash
Who Attends Real Estate Networking Events?
At its core, networking involves sharing ideas, best practices, and information as you work towards building mutually beneficial relationships. 
It's an excellent opportunity to find ways to lend a hand to a fellow real estate agent while learning something new in the process. 
Real estate agents aren't the only ones who attend networking events. You'll find all sorts of entrepreneurs and prospective buyers at any given real estate networking event. 
First Time Home Buyers 
Real Estate Investors 
Established Real Estate Groups 
Start-Up Real Estate Agencies 
Real Estate Marketing Experts 
Because there are so many different people attending these networking events, it's crucial to capitalize on the opportunity by exercising your networking skills. 
Before attending a networking meetup, review the guestlist for upcoming events to know your networking targets. Always be prepared to share your contact information with a digital business card. 
What Are Buyers Looking For From Real Estate Agents During Events?
When you attend events where you will network with potential real estate clients, it's essential to put your best foot forward and show them exactly who you are. 
As home buyers and real estate investors look for the right agent, they value several qualities above the rest, including. 
People Skills: Your client wants to feel at ease with their agents. But friendliness goes beyond just being nice. Show interest in them as human beings, and that personal connection will carry you far. 
Knowledge Of Technology: Buyers want an agent who's connected. They want to see a social media presence and a well-designed website. Be prepared to schedule showings virtually and offer text communication in addition to phone calls and emails.
No Pressure: Modern buyers aren't interested in a hard sell or being pressured into a sale. They want a real estate professional who will guide them through decision-making without rushing them through the sale. 
Local Expertise: While being tech-savvy is essential, buyers want to feel their agent is accessible and knowledgeable with their area of interest. Communicate that you are available and know their target area, and surrounding towns, very well. 
Real estate buyers don't just want you to represent them in the purchase process; they want an ally who can guide them through the process and act in their best interest. 
The more you demonstrate that you are in the real estate business for the people, not the profit, the more clients you will attract. 
Let's take a look at the best places to find real estate networking opportunities. 
Best Places To Find Real Estate Networking Opportunities 
While many picture a formal event like a conference or trade show, networking opportunities don't just happen at big industry events. 
Any place where you can build relationships with other people is a place where you can grow your personal and professional network. 
However, some places are more beneficial for real estate agents, as they put you in close proximity to individuals who can help further your career and reputation. 
Here are the best places for real estate agents to network and form valuable connections. 
1. Join Local Area Real Estate Associations
If you're looking to meet other realtors, mortgage brokers, and real estate investors, joining a local real estate association is a great place to start. 
State, local, and the national association of realtors chapters are great resources for professional development and networking events. Also, consider connecting with your Local Real Estate Investors Association, or REIA, to find valuable networking opportunities associated with the real estate industry. 
Some association events are free, while others require payment to attend. Either way, you'll be immersed in a pool of like-minded professionals with endless networking possibilities at hand. 
2. Get Involved In Community Events 
Connect with your local chamber of commerce to find dedicated networking opportunities. As well as community events that allow you to connect directly with residents in your area. 
When you get involved in your community, you instantly become more visible. Attend local farmer's markets, volunteer to support community theater productions, or even bring a dish to a neighborhood block party. 
Remember that networking is all about building relationships. So when you demonstrate that you are a proud member of the community, you'll have a better shot at finding qualified leads. You'll also gain a deeper understanding of the area, which demonstrates trustworthiness to clients. 
3. Participate In Real Estate Webinars And Professional Development
Even the most seasoned real estate professionals can benefit from furthering their knowledge. 
Attend webinars on topics that will help you better serve your clients. Pay close attention to the guest list and research the participants on social media. 
This is a great way to expand your LinkedIn network and identify promising connections. It also helps to build your online presence, which improves your credibility with potential clients and connections. 
Create a virtual business card that will allow you to share your contact information during an online event or on Linked In to increase networking possibilities. 
Participating in live professional development classes is also beneficial. Classes on property management and real estate investing strategies will yield good information and put you in the same room as other professionals you can connect with. 
You can also share your digital business card here and show that you have your eyes towards the future of networking. 
4. Branch Out To Events For Related Industries
While networking with other real estate professionals is key to advancing your career, don't forget to look for connections in related fields. 
Attend trade shows that gather a variety of professionals in one place. Look for networking opportunities with professionals from fields that can benefit your own real estate business. 
Contractors
Building Supply Wholesalers
Photographers
Home Inspectors
Landscapers
These professionals from related industries will help round out your professional network and generate leads. Not only that, when your client needs services from someone you can trust, you'll be prepared with that information.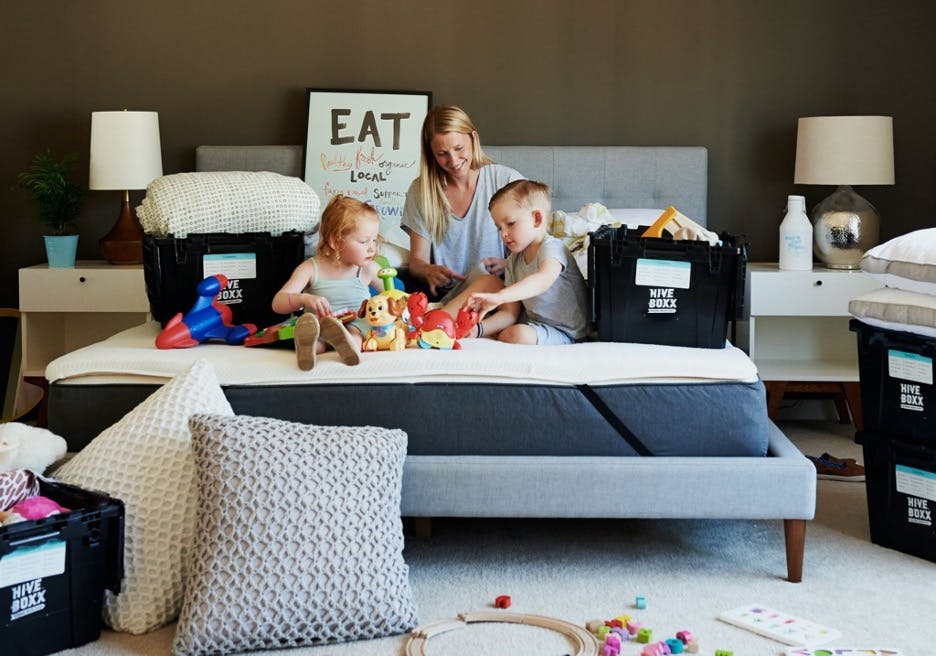 Real Estate Networking Event Best Practices
The real estate industry is about more than buying and selling properties. It's about building solid relationships with people who can support you as you support them. 
No matter where you find your networking opportunities, it's important that you always put your best foot forward as you step out of your comfort zone. 
Here are some ways you can ensure your networking efforts are effective each and every time.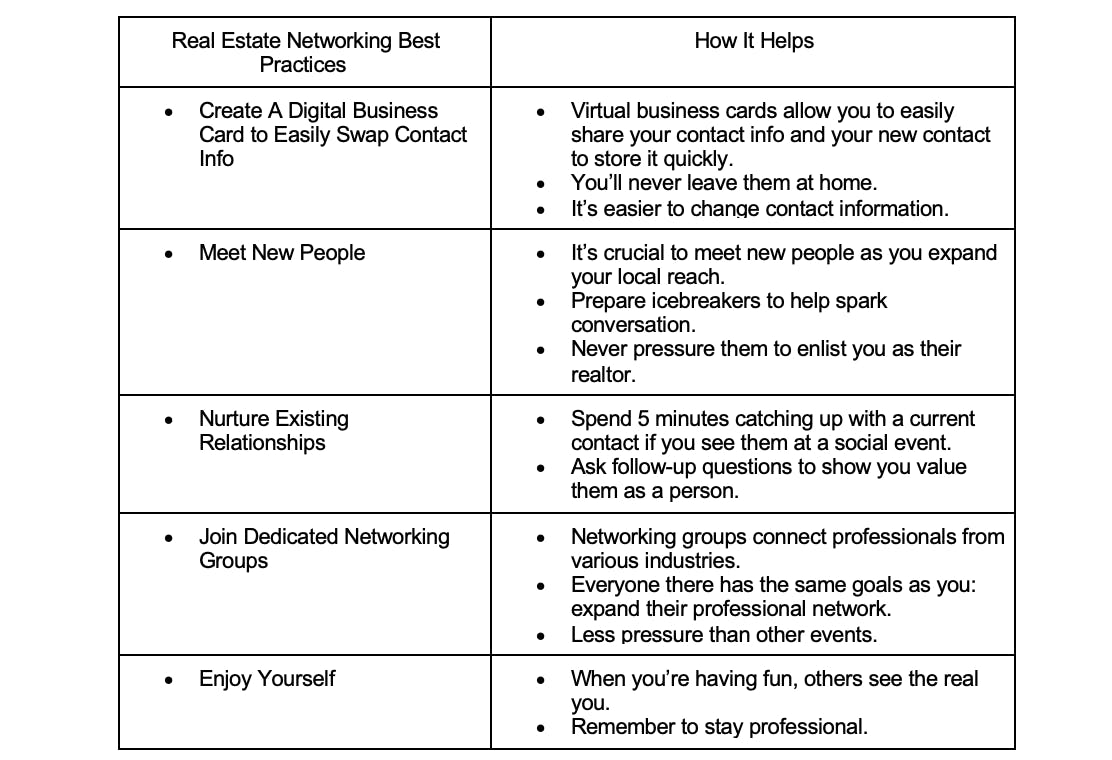 When you focus on forming strong local relationships, you're well on your way to building an authentic network that brings leads right to your doorstep. 
Grow Your Professional Network To Grow Your Real Estate Career
As a real estate professional, your network often serves as a crucial component of your career. 
It offers valuable referrals and allows you to provide clients with trustworthy service providers. In turn, it shows that you understand the ins and outs of the real estate industry. 
Use your valuable time to grow your network, and you'll see that it's truly the key to career success. 
FAQs
How can real estate agents gain more referrals? 
You can gain more referrals through agent networking, which will help establish professional relationships that allow for both buyer and seller referrals through a trusted agent. 
Digital business cards are eco-friendly, easy to share, and allow your contacts to store your information in their address book instantly. 
What should new real estate agents do to kickstart their career?
To grow their business, new real estate agents should create a realistic marketing strategy, ask friends and family for referrals, and frequent local business meetups. 
Should realtors be on social media? 
Yes! Your online presence should be a priority. Not only will it help you gain more contacts, but it will help generate leads without much legwork, as well as build your credibility as a leader of your industry.