Go back to list of posts
Networking
Events
Digital business cards
7 Ways To Overcome Your Fear Of Networking
January 2, 2022
You're afraid of networking? Many people are. These tips can help you overcome your fear, meet the right people and get more leads.
Share the article

Conquer Social Anxiety And Grow Your Professional Network With These Tips
Networking is an important part of growing your business and finding new opportunities to advance your career. But for some people, the thought of entering a room full of strangers and striking up a conversation is terrifying. 
Many professionals feel completely self-conscious when faced with the prospect of social interaction, especially when they don't know anyone in the room. As a result, they may freeze or avoid networking altogether. 
Here's how you can overcome your fear of people so you can grow your professional network and reap all the benefits a professional network has to offer.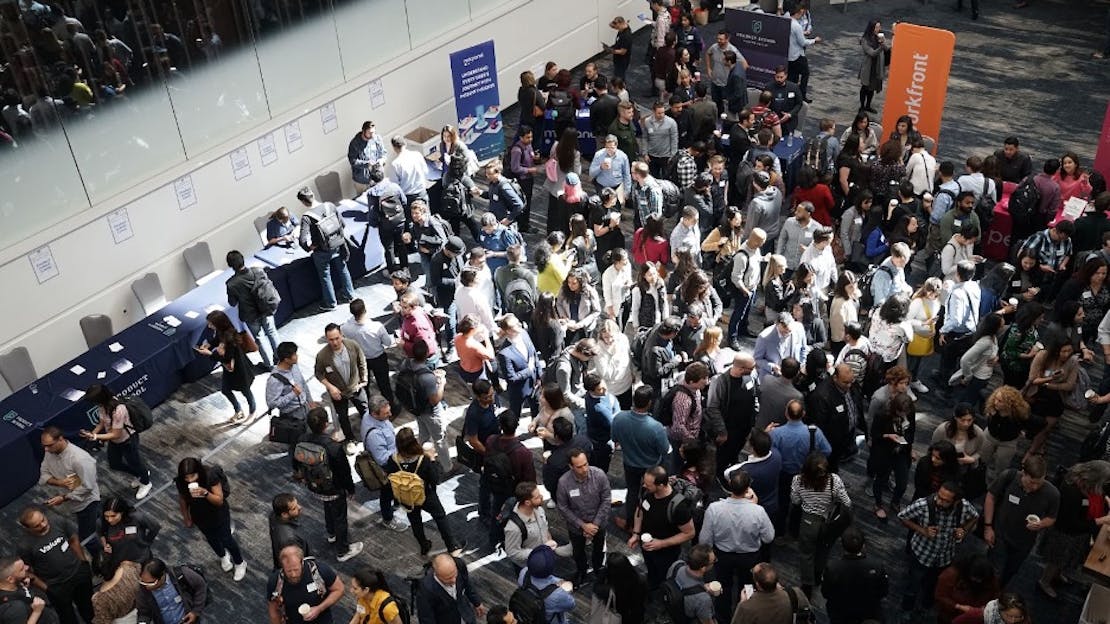 Photo by Product School on Unsplash
Why Is Networking So Important? 
Whether you are a professional looking to expand your network or at the beginning of your career path, networking is a crucial aspect of business success in every industry.
It puts you in the same room as the important people in your industry and peers who have the power to help you achieve your goals. Here are some reasons why networking is essential to your professional success: 
More Opportunities: Looking for a new job or a channel to improve sales? Your professional network is the key to lucrative business opportunities. 
New Perspectives: Networking with other professionals gives you a new perspective on how to meet business challenges. 
Improved Self Confidence: The more you work on building new relationships, the easier social interaction will become. 
Mutually Beneficial Relationships: You'll be able to lend a hand to connections in need, as well as call upon them for assistance and advice. 
Increased Brand Exposure: Networking allows you to share your brand message with more people and potentially generate referrals.
To reap the benefits of a robust network, you must cultivate relationships and build connections within your network. In addition, your networking efforts will help advance your career and identify key business opportunities to push your brand in the right direction. 
However, if social gatherings trigger panic attacks, you'll need to prepare yourself for networking in front of other people. Much like with public speaking, the more you put yourself out there, the easier networking will become. 
7 Tips For Overcoming The Fear Of Meeting People While Networking 
There are many different ways to network. For example, you can attend an industry conference, a virtual networking meetup, or simply strike up a conversation with new people at a social gathering. 
However, if you have social anxiety or are self-conscious, even saying hello can feel like a big deal. Fortunately, you can take some simple steps to ease the stress of social interactions and start building mutually beneficial relationships. 
Whether you are networking for the first time or simply want to get better at meeting new people, here are seven ways you can overcome your nerves in social situations, lose the awkwardness, and network like a pro.
1. Pick Your Battles
Don't feel pressured to attend every networking event that crosses your calendar. Networking events don't all carry the same weight, so you don't need to attend them all to build your network effectively. 
Focus on meeting the right people at the right time. For example, if you're looking for a new job, look for opportunities that will put you in the same room as hiring managers or high-ranking employees at your target company. 
Choose the events that you feel will offer the most opportunities for your efforts. Don't forget to give yourself time to reflect and recharge in between events. This will go a long way to preventing you from feeling overwhelmed. 
2. Do Some Research
Fear of the unknown is a massive trigger for stress. Combat this fear by doing some research before attending a networking event. 
Try locating a list of attendees before the event starts and familiarize yourself with several attendees who are from your city, and start a conversation with them. This will help you focus on the people you're likely to meet and give you time to research their interests and careers. Check out their LinkedIn or Facebook profiles to get to know them on the surface. 
This can help you think of talking points and questions during your first conversation. It can also help you weed out attendees who may not have anything in common with you or have what you're looking for. 
If online interactions are less stressful for you, you can connect with them on social media and arrange a quick chat during the event. By getting the initial contact out of the way, you'll feel more at ease approaching them in person. 
Take the time to introduce yourself virtually and ask them how they feel about the upcoming event. You never know: they may be scared of networking too! 
By doing your homework, you will enter the networking event with a purpose and more confidence to network with other professionals.
3. Set Networking Goals 
Decide what you want to get out of the networking event. Set one or two realistic goals to help you target your networking in a meaningful way. This will help you create a clear vision of what you want to achieve. 
Here are some examples of networking goals that will help ease the pressure of meeting new people: 
Identify one job prospect.
Engage in conversation with a particular person. 
Share your digital business card with three people. 
Gain insight on a competitor's product. 
Make three meaningful connections. 
Start with one or two simple goals. Once you realize you aren't obligated to talk to everyone in the room, the event will seem more approachable. 
Remind yourself that it's OK to leave early if you're feeling overwhelmed, especially if you've already met your networking goal. The important thing is that you continue practicing to overcome your fear. 
4. Prepare Icebreakers & Conversation Starters
A significant stressor for many people with social anxiety is what they will actually say at an event. It's true: you can't script conversations, especially when meeting new people. 
However, you can prepare some simple icebreakers and conversation starters that will help you fill awkward silences. Take a look at some ideas you can use at your next networking event to feel more prepared for a conversation. 
Ask their opinion on the keynote or presentation. 
Compliment their tie, shoes, or bag. 
Ask about their role and what brought them to the event. 
Introduce yourself in three sentences or less. 
Ask questions about where they grew up or their hobbies. 
Don't put pressure on yourself to create an elevator pitch. It's more natural to politely introduce yourself and ask your new connection questions about their background and profession. If it's a good conversation, they will reciprocate and ask you about yourself as well. 
If you find your interaction a bit one-sided, feel free to end the conversation and politely move on to someone new. However, never waste your time with a connection that will probably not develop into a promising relationship. 
5. Be Mindful Of Your Body Language
It's natural to worry about what you will say as you network, but you should also pay attention to your body language. Of all the communication skills, body language is one of the most important. 
How you carry yourself helps others interpret your mood and attitude towards a specific topic. They will use cues like posture, eye contact, and hand placement to determine if they want to move forward in a professional relationship with you. 
Practice maintaining an open posture to encourage others to strike up a conversation with you. When you're nervous, you tense up, sometimes crossing your arms or hunching your shoulders. This can make you appear unapproachable to others. 
As you circulate, stand up straight, keep your facial features relaxed, and stay off your phone. If you find yourself fidgeting with your hands, hold a cup of coffee or the program to keep yourself centered. 
Once you enter into a conversation, maintain appropriate eye contact and do your best to exude confidence. Keep your eye on others' body language as well. If they position their body away from you or begin looking around the room, this could be an indicator that you need to exit the conversation gracefully. 
This takes practice, but you'll find yourself with more opportunities as you work on being approachable in social settings. 
6. Decompress With Breaks 
If you become overwhelmed by the crowd or struggle to initiate a conversation, take a short break. Give yourself time to go to the restroom, your car, or another quiet place to take a deep breath and organize your thoughts. 
Sometimes, interacting with a familiar person can help bring your anxiety down and help avoid a panic attack. For example, reach out to family members or loved ones via text and ask them for advice or tell them how you're feeling. 
Once you are calm again, you can try once more or head home. Set a goal you know you can accomplish if you return to the event. 
If you need to leave, don't worry. Chances are, this is not the last networking event you'll encounter, so feel free to call it a night and head home. Remind yourself that all progress is progress, even if you fall short of your goals.
7. Take A Buddy To Your Networking Event 
Sure, it's crucial to network solo, but not everyone is at that point. If you fear people, bringing someone familiar with you can help ease tension and make you feel less alone in a room of strangers. 
There are lots of different people you can invite to be your networking wing-person: 
A family member
A colleague 
A college friend 
Your business partner 
With a partner, you can generate your own conversation circles and boost each other when confidence slips. You can also give each other tips after observing your partner in action. 
But be careful: avoid clinging to your partner rather than putting yourself out there. Instead, take the time to mingle as individual networkers for periods of time, reconvening when you naturally end another conversation. 
Overcome Your Fear Of Networking To Open New Doors
Networking, at its core, takes us out of our comfort zone to help us build meaningful relationships. It involves meeting new people, exchanging contact information, and putting in the effort to follow up on promising leads. 
But it's not so easy for everyone. Networking is a great way to practice starting and maintaining conversations if you struggle with social interactions. In addition, you may find yourself gaining confidence that you can use during business and personal interactions. 
It may take some time, but soon you'll find yourself overcome with excitement rather than dread when signing up for a networking event. 
So put yourself out there and use these tips to overcome your fear of networking. You won't regret it. 
FAQs
How can I improve my communication skills? 
Consider your audience, practice in the appropriate setting, and focus on your body language to improve your communication skills. 
How can I run more effective business meetings?
Make your business meetings more effective and proactive by sticking to your end time, following an agenda, and giving attendees a voice. 
How long should I talk to someone at a networking event? 
Keep conversations at a networking event under 5 minutes to ensure you're able to exchange introductions and contact information without monopolizing the other person's time.