Go back to list of posts
Client relationships
Networking
Events
The Best Lead Generation Practices For Online Events
December 11, 2021
Learn how to generate more leads online with this guide on the best lead generation practices for online events. You'll also discover tools to help you grow your network and use social media to promote your event.
Share the article

Use These Ideas To Generate New Leads For A Successful Virtual Event
The online events industry is booming, and it doesn't seem to be slowing down any time soon. 
Between the gig economy, remote employment, and the desire for flexible attendance, virtual events give attendees more control over how and when they access your content. 
Much like in-person events, online sessions are a great way to fill your pipelines and generate qualified leads. They allow you to reach a larger audience and provide more opportunities for potential sales and marketing lead generation. 
But what steps do you need to take to generate leads before, during, and after your virtual event?
Let's take a look at some lead generation techniques you can use for your next online event and some best practices for generating new leads.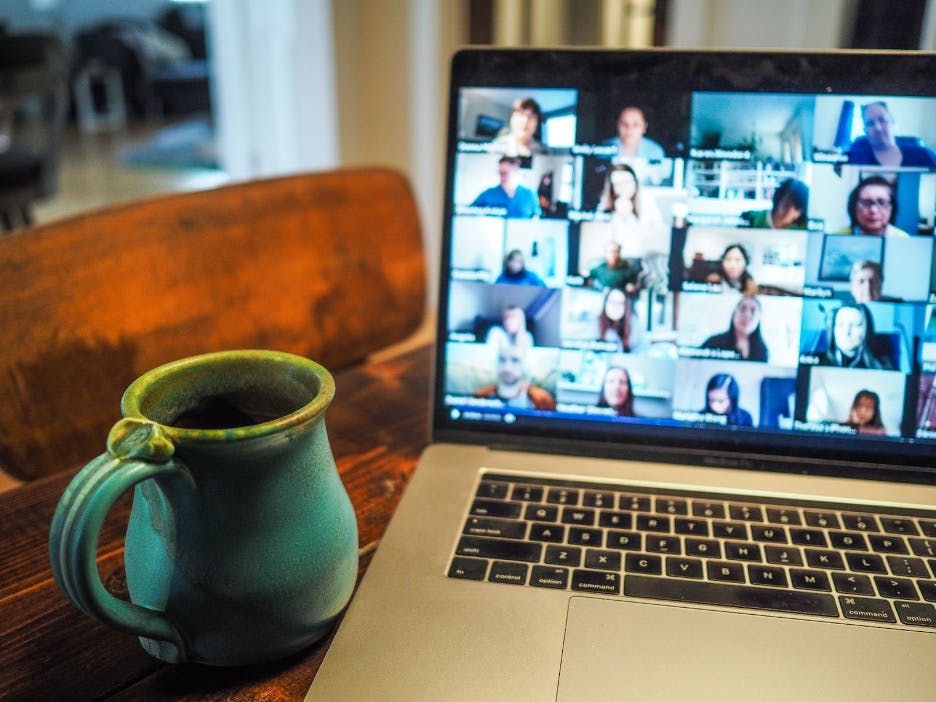 Photo by Chris Montgomery on Unsplash
What Are Some Online Lead Generation Techniques?
Lead generation techniques are methods that help you generate new client or customer leads. 
When attempting to generate new leads through an online event, you'll need to adjust your typical lead generation techniques to make them more internet-friendly. 
Here are some examples of some virtual lead generation tactics that work: 
Search Engine Optimization (SEO) 
Webinars Or Podcast
Online Marketing Videos
Infographics 
Case Studies
Blogging
Virtual Professional Networking 
When you incorporate these lead generation techniques into your virtual event marketing plan, you'll develop a solid strategy to build preference in the marketplace. 
What Are The Best Lead Gen Practices For Online Events?
Virtual events remove barriers, such as cost, proximity, and accessibility. 
This means more people can attend, meaning more opportunities for sales, marketing lead generation, and brand visibility. 
Here are some best practices you can follow to generate leads before, during, and after your virtual event. 
Target Industry Influencers 
Known as people who have good influence over a particular audience, you can find influencers in every industry. They have considerable followings on social media platforms like Instagram, YouTube, or LinkedIn and have thousands, even millions of followers. 
Since your target audience already trusts them, influencers fit nicely into your lead generation strategy. Don't only focus on the biggest ones because you want to reach as many people as possible. 
Sometimes, the smaller, more niche influencers have the most dedicated and engaged following as these influencers keep personal connections with their followers compared to larger influencers. 
Here are some ways you can use influencers to drive effective lead generation:
Ask To Collaborate On A Topic Related To Your Event
Sponsor A Video And Link Your Homepage
Invite Them To Your Virtual Event 
Offer Products In Exchange For Them Posting About Your Event 
When the influencer promotes your event, they act as lead magnets. Their followers are more likely to trust your brand and what you offer because someone they know is connected to it. 
Use In-Person Event Materials For Content Marketing
It is likely that you already have a stockpile of marketing materials for in-person events lying around the office. Take a look through your filing cabinets and drawers to find resources that you created for past in-person events.
The good news is that these items can serve a new purpose. Just because you have shifted to a digital marketing strategy for your online event doesn't mean these materials are useless. 
Consider converting your brochures to PDFs and repurposing your videos to generate leads for your digital marketing campaigns. You can also recycle presentations into on-demand webinars or post recordings of previous keynotes to your social media channels. 
These marketing tools will help generate potential leads by strengthening your content marketing strategy and showing that your event is worth their time. 
Offer Referral Incentives To Employees
With so much focus on your target audience, it's easy to forget your event's most prominent supporters are right within reach.
From your sales team to your marketing team to the CEO, your employees can bring a lot of knowledge and experience to your online event. They also have their own personal and professional networks that you can utilize to generate leads. 
Here are some ideas you can use to incorporate your employees into your lead gen strategy:
Set A Goal: Using past event data, set a referral goal that is realistic and attainable. 
Make It A Competition: A tiered referral program can move things along by creating friendly competition. 
Get Creative With Rewards: Think beyond cash or bonuses. Sometimes, unexpected rewards drive more engagement. 
Celebrate Success: Announce the winners during meetings and share how their referrals contributed to the event's success. 
Remember to keep it simple. The goal here is to fill the sales funnel with potential customers, focusing on lead generation.
Encourage Signups With Website Promotions
The lead generation process is tricky because you need to find the best way to engage your target audience and inspire them to become leads. 
One way digital marketers do this is by generating email lists to use as part of their marketing automation process. 
Traditional email marketing tactics, like pop-ups, sidebars, and CTAs, typically have a low opt-in rate because they lack an incentive for potential customers to enter their contact information. 
A great way to add to your email list for lead capture initiatives is to offer a promo code or exclusive content for entering their email. 
This will help you identify qualified leads to add to your CRM from outbound marketing. 
Turn Your Eye To The International Market
The beauty of an online event is that there are no borders or travel restrictions that prevent your target audience from accessing your content. 
You can invite anyone regardless of where they are in the world. This will add variety to your event and offer abundant networking opportunities even after the online event wraps up. 
This feeds your lead generation strategy as well. You can get more creative with lead generation since you don't limit your targeting to the local market. 
Think about including a targeted ad campaign on LinkedIn, Facebook, or Instagram in your social media marketing campaign. 
Paid Social Media campaigns can help you reach the right people at the right time with the right message. You can target specific audiences or people in a specific geographic area based on the needs and goals of your online event. 
Additionally, consider offering translation services during your online event for international guests. This will help both staff and attendees eliminate potential language barriers and open up your lead generation outreach to new locations. 
Use A Chatbot On Landing Pages To Convert Visitors Into Leads
There is a good reason why chatbots are a popular lead generation tool: they work! People who attend your online events are likely eager to engage with you more, and you can use chatbots on various landing pages to drive more conversions. 
A lead generation chatbot is designed to identify potential leads, capture their interest, and cultivate relationships. 
The chatbot typically appears in pop-ups with a question or suggestion. This prompts the visitor to answer the question, which will start an automated conversation.  
Some chatbots require users to enter their email addresses or contact information, which will allow you to identify potential leads even while you are offline. 
There are many functions chatbot templates offer for lead generation when placed on your landing pages, including: 
Welcoming A New Or Returning Visitor
Engage Users Before They Leave 
Allow Visitors To Request A Phonecall 
Inform Retargeting Efforts
Collect Demographics And Contact Information For Your CRM 
The data collected by the chatbot is crucial for lead scoring, eliminating the need for cold calling and allowing you to focus on the most qualified leads. 
How Do You Generate B2B Leads Through Online Events?
Events are typically how the business-to-business, or B2B, industry generates leads. However, B2B marketers need to be purposeful to ensure they aren't missing out on prospective leads that may grow their business. 
It would help if you had a thoughtful marketing strategy that focuses on customer engagement and conversion rates to generate high-quality leads. 
Here are some ideas to maximize your B2B lead generation strategy during online events: 
Know Your Audience: Review your marketing collateral and personalize it to fit your target audience of decision-makers. Offer value to site visitors to increase brand awareness and generate leads. 
Boost Your Follow-Up: During virtual events, pre-event and post-event follow-ups are essential to your lead generation strategy. Use a live chat option to engage with potential attendees and answer their questions quickly. 
Strengthen Your Content: A strong content marketing strategy will help capture the attention of other businesses to generate essential B2B leads. 
Focus On Engagement: During your online event, use engaging tools like screen sharing, live polling, and gamification to draw your attendees in. Always make time to answer concerns or questions. 
It will take some time and effort, but online events are a great way to generate B2B leads. Be sure to set your KPIs before the event so you have a way to measure your ROI once your virtual event concludes. 
Use These Best Practices To Increase Leads During Online Events
Virtual events take a lot of time to plan but offer endless possibilities for lead generation. 
Remember, the best lead generation strategies are the ones that create the best user experience. Focus on your audience persona and identify what works for them. 
Use this knowledge to drive your lead generation process and convince them to register for your online event. Before long, you'll see your sales funnel full to the brim and a sharp increase in your ROI as you convert leads into paying customers. 
FAQs
How can I run more effective business meetings? 
Ensure your business meetings are productive by setting a plan, including the right people, and recording meeting notes. 
Why types of sales technology can I use to improve sales? 
Sales technology that will increase efficiency and drive more sales include CRM, digital business cards, sales automation tools, and virtual professional development. 
How much does it cost to host a virtual event? 
While pricing varies based on scale and reach, the specific virtual event costs between $4,000 and $20,000 and is typically 75% cheaper than hosting an in-person event.