Go back to list of posts
Networking
Client relationships
 5 Pro Tips To Grow Your Professional Network
September 21, 2021
If you're looking to grow your professional network, we've got five pro tips. Learn how to avoid common mistakes and maximize the value of each connection so that they become a positive asset in your career.
Share the article

Use These Strategies To Bring Your Professional Network To The Next Level 
Networking plays a pivotal role in the success of your career. But it's so easy to overlook it as you work hard to establish yourself as a professional in your field. 
If you've been in your field for some time, you probably have naturally cultivated a professional network with minimal effort. You've collected some business cards, exchanged a few friendly emails, and maybe even offered a favor to an acquaintance in need. 
However, in order to continue down your professional pathway, you need to make the right connections. These essential contacts will open new doors to amazing opportunities. So it's time to establish a strong professional network. 
But where do you start? 
It can be overwhelming deciding where to begin growing your network and professional networking skills. However, it's crucial to continuously grow your professional network. You'll need to master the art of the networking meetup and learn how to pursue new connections that will benefit your career in the long run. 
Let's take a look at why networking is so important, how you can grow your professional network, and things to avoid as you work towards expanding your list of contacts. 
Why Is It Important To Network?
By forming and maintaining a professional relationship, you gain access to job opportunities that you may now have stumbled upon on your own. 
Your professional network has the ability to offer insight into different fields, what potential employers are looking for, and how you can improve your skill set. 
A single professional contact could help you gain access to a meeting or interview for new jobs with multiple companies, rather than you having to network and form new connections with each individual company. 
It can even help you obtain essential referrals and face-to-face interactions with industry leaders. These perks are well worth the effort it takes to build a robust professional network. 
When you network effectively, you save effort, time, and stress. Knowing how to wield the power of the professional network is a powerful tool that can aid in your professional development and your reputation in your industry. 
How To Grow Your Network Online
An online professional network is critical for career advancement and access to lucrative job opportunities in today's job market. It's also convenient and easy to do. 
Virtual meetups and networking sites are a great option if this is your first time attempting to network. You can optimize your LinkedIn profile to include important information about you and your accomplishments, as well as helpful resources others can utilize.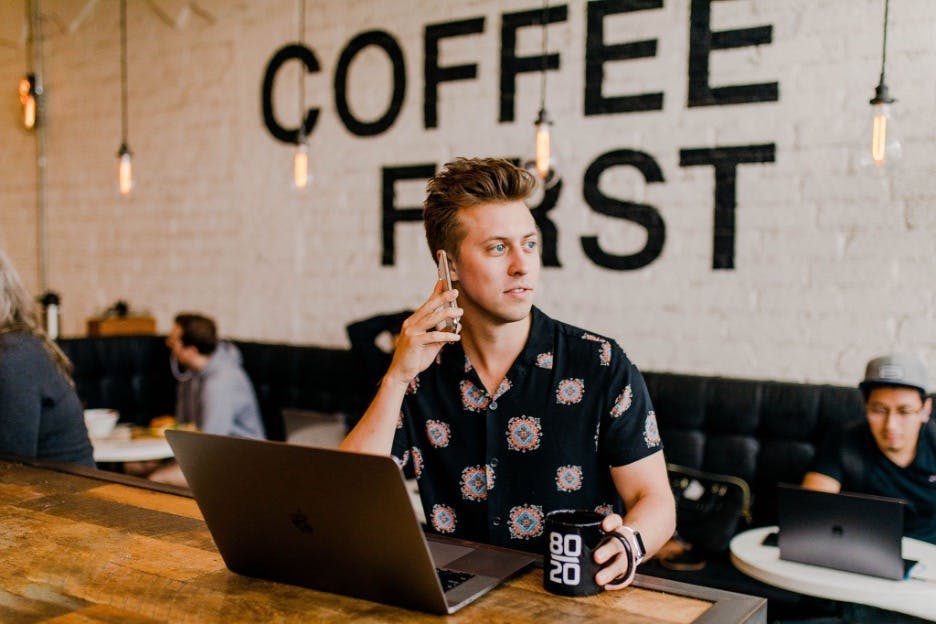 Photo by Austin Distel on Unsplash
Here are some ways to help you grow your professional network online.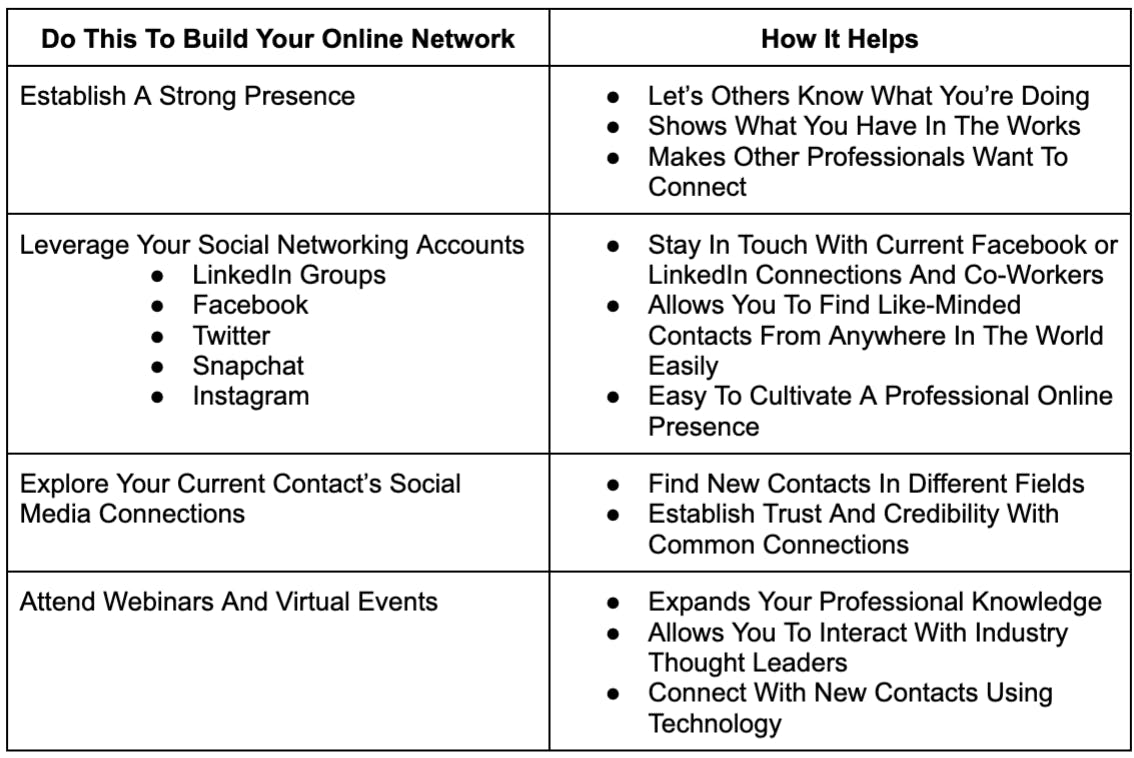 Even though many professionals still prefer to meet face-to-face, you cannot ignore the power of online networking. Building your network virtually is convenient, effective, and an excellent opportunity to expand your horizons.  
Let's take a look at five ways you can grow your professional network in any setting. 
5 Ways To Grow Your Professional Network
Much like social networking, the goal of a professional network is to build relationships that will be mutually beneficial to all involved. Your priority should always be the person and the relationship you build with them. 
But it's not easy to step out of your comfort zone to network when you don't know anyone and tackle all networking opportunities you come across. You'll need some advice from networking experts to start on the right foot. 
Here are five pro networking tips you can use today to help grow your professional network. 
1. Attend Both Online And In-Person Networking Events
Each industry hosts events that offer excellent networking opportunities. These trade shows and conferences may take place online or in person. No matter where they are set, plan on taking advantage of these events to build your network. 
In-person networking opportunities will allow you to make new contacts with other attendees. Try frequenting places the people who want to connect with spend their time. Popular lunch spots, industry happy jours, and charity events are good places to start.
2. Give More Than You Take 
When building a relationship, it's essential to make sure it isn't always about you. Helping others will pay off in the long rug and give them an incentive to return the favor. 
Share your expertise and industry knowledge whenever you see the opportunity. This will help you reach your long-term networking goals and strengthen the bond you have with your contacts. 
The most important takeaway from this tip is not to be selfish and always think about how you can help your new contacts. 
Similarly, if you notice that you are always giving to a new connection, but they never reciprocate, it's a good indicator that this professional contact isn't worth your time. 
3. Set Up Connections To Become Long-Term Relationships 
Exchanging business cards is just the first step in building relationships and meaningful connections. Focus on creating long-term relationships that will offer benefits to both parties. 
Always make a conscious effort to offer assistance to your professional connections. Don't stop at asking about their professional life. Ask your contacts about their interests, history, and family. 
You'd be surprised how meaningful it is to the other person when you ask about their pet or hobby during a follow-up conversation. So as you gather business cards, be sure to immediately make notes on key details that will be helpful during follow-ups. 
4. Always Ask For What You Want
You'll never get what you don't ask for. Many blossoming networkers shy away from being direct about what they want. 
If you are looking for an introduction, a meeting with a recruiter, or advice from a seasoned pro, go ahead and ask for it. Use a friendly tone and clear language to ensure the other party knows what you are looking for. 
The worst thing that will happen is they turn you down. Then you're just right where you started, except you know that contact does not need constant pursuing. Go ahead and continue working down your list of professional contacts until you get what you want. 
5. Follow Up With Every Connection You Make 
Whether you make LinkedIn connections or in-person contacts, always take the time to follow up with every single new connection you make. 
After a networking meetup, take the time to sort through the contact information you received and follow up via email the next day. 
Let them know it was a pleasure to meet them, include a small detail from your conversation to refresh their memory and ask them to reach out to you if they ever need help. 
Be sure to always follow through with your promises and commitments. Nothing will ruin a connection more than flaking on your obligations.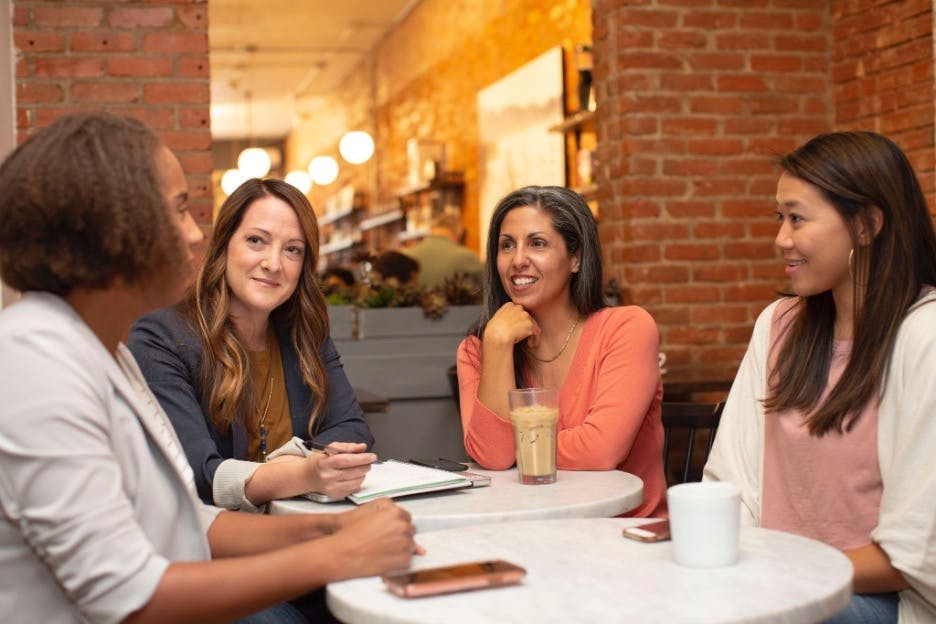 Photo by LinkedIn Sales Solutions on Unsplash
Common Professional Networking Mistakes To Avoid
Professional networking is a time-consuming but essential way to enhance your business and career. 
However, even successful entrepreneurs make common missteps as they grow their professional network, resulting in missed opportunities and spoiled connections.
Here are some things to avoid when networking professionally. 
Don't Take Advantage Of Your Contacts: No one likes to feel used. Always thank each connection and offer to reciprocate any favors you receive. 
Don't Be Unprepared: Treat all networking opportunities like a job interview. Practice your elevator pitch and plan answers to common networking questions that may arise. 
Don't Forget Your Business Cards: Business cards are the gold standard for swapping contact information. Prevent being caught unprepared by creating a digital business card that you can share instantly with new contacts. 
Don't Monopolize Someone's Time: When working the room, always be conscious of others waiting to talk to your new connection—practice ending a conversation gracefully and set a goal to interact with a specific number of attendees. 
Don't Lie To Impress Someone: It's tempting to stretch the truth to get your way, but lies have a way of being exposed. Never lie, and you'll never need to worry about getting caught. 
Once you've mastered the art of professional networking, you'll be well on your way to building your network. Always put people first and be ready to lend a helping hand. 
Before long, you'll be grateful that you spent so much time cultivating your professional network as you reap the benefits of the network you've sown. 
FAQs
What should I bring to my next networking event? 
As you prepare for your next networking event, you should always bring a digital business card, a way to take notes, and a positive can-do attitude. 
What are the different types of networking events? 
Three types of networking events are industry-specific conferences, happy hour events, and fundraising/charity events. 
How can I optimize my LinkedIn profile? 
Optimize your LinkedIn profile by choosing a professional photo, changing your headline to reveal more than your job title, and listing your relevant skill sets.