Go back to list of posts
Networking
Entrepreneurs
5 Professional Networking Tips For Entrepreneurs
January 11, 2022
Find out what you can do to advance your career as an entrepreneur. These five tips will help you grow your business network and get ahead.
Share the article

Grow Your Entrepreneurs Network And Make Lasting Connections
As an entrepreneur, you're always looking for new business opportunities to advance your brand. You need a variety of skills to build your business. One of the more powerful skills you can develop is your networking skills to ensure your personal and professional success in the future.
Professional networking allows you to build connections that will help you learn new things and grow your business. Not only that, you'll forge relationships with investors, suppliers, distributors, and other entrepreneurs that will prove invaluable to your brand. 
Let's look at why networking is a crucial component of an entrepreneur's skill set and give ways you can grow your professional network to benefit your business.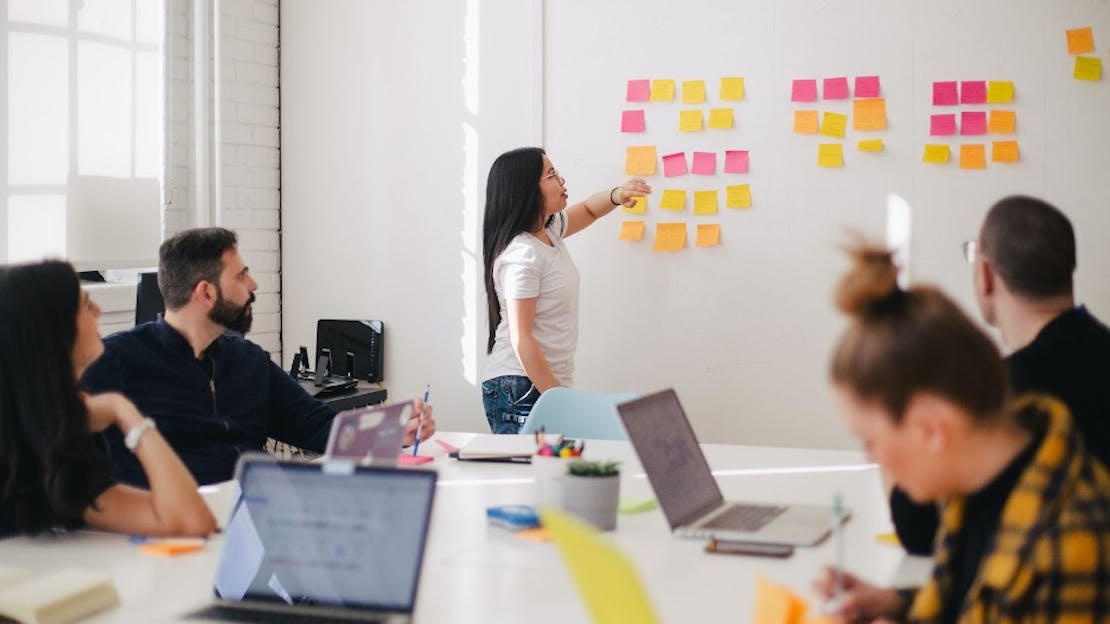 Photo by Jason Goodman on Unsplash
Why Is Networking Essential For Entrepreneurs? 
It's impossible to build your business in a bubble. You need to make the right connections to help you with every facet of your company. 
Business networking is all about identifying mutually beneficial relationships and leveraging them to your benefit at the right moments. Here are some benefits of expanding your professional network as an entrepreneur: 
Offer And Find Inspiration: When you see what others have accomplished, it can show you the potential your project has and motivate you to push forward. You can also offer inspiration to a new startup or young entrepreneurs in your industry. 
Shorten Your Learning Curve: Networking helps you find mentors who can teach you basic and advanced skills that can help you build your knowledge base. This will help limit time-consuming errors and costly mistakes. 
Identify New Financial Opportunities: New professional connections can bring you new customers for your business and help you find partners who can grow your company beyond your original vision. 
Gain A New Perspective: Professional relationship building can help you find creative solutions for issues and challenges you face as an entrepreneur. 
Networking with other entrepreneurs is a gamechanger no matter what industry you're a part of. Let's look at ways to grow your network and sharpen your professional networking skills. 
5 Tips For Growing Your Entrepreneurs' Network
No two networks are alike: your professional network is shaped by your brand needs and unique approach, as well as the climate and your current project. 
However, all networks contain the functionalities you can use to take your place amongst the most successful entrepreneurs. 
Business owners need to grow their network to experience all the benefits and possibilities networking offers. Here are five tips for any entrepreneur to develop their professional network today. 
1. Set Networking Goals To Facilitate Business Development
Like any project, you need to start with the end in mind. Setting your professional networking goals will help you maximize your time developing new connections. 
It will also help you identify the most likely relationships for mentorship or help you develop your business goals. 
Start by doing some research to identify solid possibilities for new connections. Many networking events publish a guest list, so head to LinkedIn and find the profiles of some confirmed attendees. This will tell you a lot about their background and whether or not their expertise can be helpful. 
Next, set some networking objectives to grow your entrepreneurial network. For example, set a goal to connect with at least five new people and collect their business cards during the meetup. Create a digital business card to share with new connections to make a powerful impression. 
After the event, evaluate your performance and see if you met your goals. If not, no worries: just try again next time! Keep this up, and you'll see your network expand. 
2. Create A Professional Profile
Before you amp up your networking efforts, you need to ensure your professional profile is accurate and up-to-date. That way, when you reach out to new connections, they will get the correct information when they look you up. 
Review your social media profiles on LinkedIn, Facebook, Instagram, Twitter, or any other platform you maintain a professional presence like Crunchbase or AngelList. Chances are, you have several professional profiles floating around. Optimize each one to ensure you present a positive first impression. 
Screen for content that you would be apprehensive for a vendor, client, or investor to see. Search your full name online to see if anything pops up that you'd rather avoid and correct that. 
Take the time to ensure your professional profile gives an accurate overview of who you are as an entrepreneur to ensure you have the online presence you want to attract high-quality leads. 
3. Connect With Young Entrepreneurs On Social Media
Entrepreneurship can get lonely, especially when you're funneling hours upon hours into getting your startup off the ground in the early stage. If you're working on getting your small business off the ground, consider connecting with other young entrepreneurs on social media groups. 
These partnerships can give you an outlet to discuss your new business with another entrepreneur who may be able to provide you with a fresh perspective or approach. They also offer opportunities for referrals that can lead to new business opportunities. 
Social networking groups also give you a new venue for networking and gaining followers for your business. So keep an eye out for active groups for entrepreneurs and lend your voice to the conversation. Remember to maintain a positive, professional tone to prevent isolating potential connections. 
4. Attend Conferences and Events For Related Industries 
You've probably already attended or are considering attending conferences and networking events geared toward your industry. But have you considered looking beyond your niche for networking opportunities? 
For example, real estate agents may consider networking with photographers, contractors, or building supply wholesalers at home shows or similar meetups. These interactions can help generate referrals and build a network of professionals you can call on when you need their services. 
There are plenty of networking opportunities to be had in an online environment. Don't forget about virtual conferences. Some even have sessions dedicated to networking. This will help you build connections outside your local market and connect with professionals you can learn something from. 
5. Look For Networking Opportunities Everywhere You Go
Even if you aren't in work mode, keep your mind on networking. Organic connections can offer a unique perspective and expansive knowledge that you can use to grow your business. 
Look for networking opportunities everywhere you go. Step out of your comfort zone and make new connections at some of these common stops in your day to day travels: 
Coffee Shops 
The Gym Or Fitness Club
Community Events
Job Fairs
Alumni Social Events 
Take the time each day to do some networking. Whether you're bringing documents to your accountant or meeting new clients, you're always around people as you work through your company's daily operations. 
Be open to new experiences and willing to step out of your comfort zone. You never know where a valuable business relationship may develop. 
Networking Best Practices For Entrepreneurs
As you take the time to interact with other entrepreneurs, you'll have the opportunity to create new partnerships, generate referrals and land new clients that will help expand your business. 
Of course, to attract the best opportunities, you'll need to put your best foot forward. Here are some best practices you can utilize to increase your chances of developing strong, mutually beneficial relationships. 
1. Know The Value You Bring To The Table
To capture the attention of other entrepreneurs, you'll need to articulate exactly why you are worth their time. Formulate an elevator pitch that you can use to communicate what your business is all about, who your target customers are, and why you are essential. 
This will help you focus on networking leads that offer the best relationship potential for your business goals. 
2. Come Prepared With A Digital Business Card
Paper business cards are a networking staple, but they typically get forgotten in a bag or ruined in the laundry. Prepare a digital business card that you can share virtually. 
The best part is that you can include more than just basic contact information. You can put the link to your site, social media profiles, and even multimedia files right on the digital card. Since it's a digital file, you'll never forget it, and connections can quickly store it on their mobile device. 
It also shows your networking peers that you are an entrepreneur who cares about their image and is ready to take their business into the future. 
3. Have Conversational Icebreakers At The Ready
To overcome that initial awkwardness, think about preparing some icebreakers to make it easier to initiate a conversation with new connections.  
You can ask questions that allow them to tell you about themselves. Ask about their business, profession, or background knowledge of the area. 
A good connection will reciprocate the questions and give you a chance to introduce yourself. If they don't, it's an indicator that this interaction may not lead to a good connection, so you can excuse yourself and move on to a new networking conversation.
4. Always Ask For What You Want
If you want your networking efforts to be successful, you will need to be willing to ask for help when you need it. 
Be ready to articulate it, whether it be a new client, a business partnership, or even just an opportunity to get to know a new connection. When you meet someone who asks how they can help, you'll be able to tell them the truth. 
This will allow you to gain the business advice you are seeking and identify new opportunities for your company. 
5. Find A Reason To Follow Up
Your networking efforts aren't over once you've initiated a connection. Reach out every so often to see how they are doing and ask if they need any help with their business. You could also invite them to a seminar, forward a helpful article, or send simple holiday greetings. 
Remember to avoid being negative or selfish. Business relationships should be a two-way street, meaning you give as much as you take. Leverage your strengths and offer assistance during your follow-up communication to show that you care about building the relationship. 
6. Leverage Professional Networking To Grow Your Business And Build Relationships
Professional networking skills are essential for all entrepreneurs. The more you put yourself out there, the more intuitive the process becomes. 
Always be on the lookout for business networking opportunities. Gain the confidence to approach new people and directly state what you are looking for while showing that you care about connecting with entrepreneurs like yourself. 
Look for people with who you have something in common with to build a relationship and grow your professional network. It could be business knowledge, industry, or even similar backgrounds. Connect with them in a meaningful way, and before long, you'll have a diverse network at your disposal that will make you the strongest business owner you can be.
FAQs
How can I improve my communication skills? 
Improve your communication skills by harnessing the power of body language, refining your online communication, and proofreading every piece of correspondence you send. 
Is there a way to make my business meetings more effective? 
Set an agenda, guide the discussion, and stick to your end time to make your business meetings effective and proactive. 
What is the difference between being an employee and being an entrepreneur? 
Entrepreneurs plan for the longevity of their business while employees complete daily tasks that help the business operate.