Go back to list of posts
Digital business cards
5 Of The Best Apps To Create A Digital Business Card
October 1, 2021
Digital business cards are gaining popularity. Learn how to create a digital business card, what information to include in your virtual card, and the top five apps you can use today.
Share the article

Don't Get Caught Networking Without A Cutting Edge Virtual Business Card
From banking to business meetings, the business world is going digital. So, it's no surprise that business cards, a staple for any successful networker, are finally seeing their virtual metamorphosis. 
Traditional business card contains basic contact information, like name, phone number, email address, and a company logo. 
Unfortunately, paper business cards typically end up forgotten in a pocket or briefcase, even if the contact is interested in building a professional relationship. 
Even worse, if you forget to bring your business cards to a networking event, you're out of luck when it comes time to swap contact information with a prospective connection. 
The good news is that digital business cards solve all these issues and offer outstanding benefits for you and your networking efforts. Not only that, but virtual business cards are the future of networking. 
Let's take a deeper look at digital business cards, how they help, and which apps are the best ones for creating your very own virtual business cards.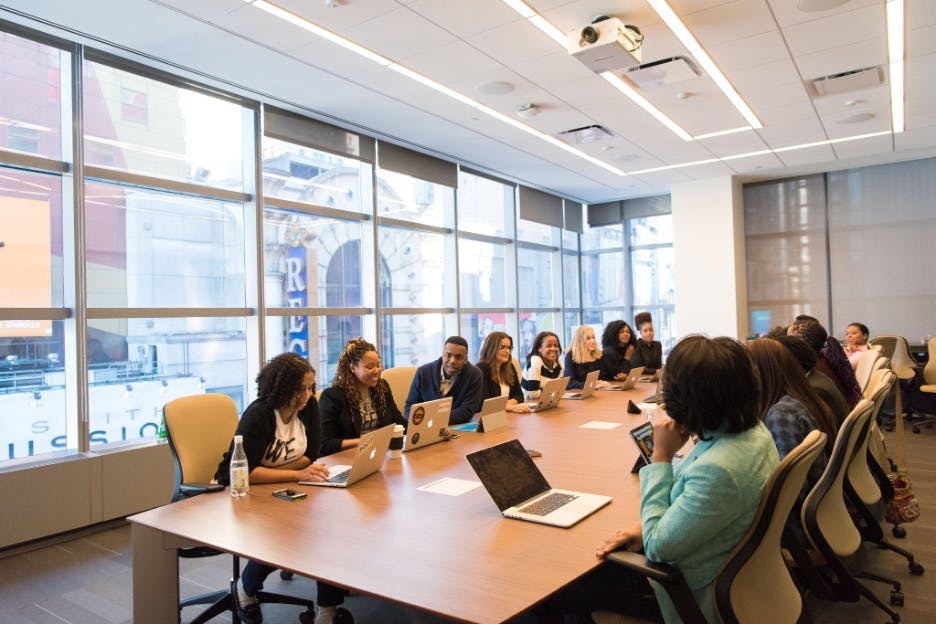 Photo by Christina @ wocintechchat.com on Unsplash
What Are Digital Business Cards? 
A digital business card is a convenient way to store and share contact information. Because they don't have a limited amount of space, as a paper business card does, you can add as much information as you see fit. 
Link To Your Website
Brand Logo And Colors
Contact Information 
Valuable Resources 
Social Media Accounts (LinkedIn, Facebook, etc.) 
A Professional Photograph
When you are ready to share your digital business card with a prospective client or contact, simply share the URL to your business card or text the file to the other person. 
Digital business cards offer many benefits for professional networkers:
Cost-Effective: Basic virtual business cards are free, but you need to pay to access premium features. The good news is you only pay to design the card. 
Easily Shared: Simply send your contacts a social media message, text message, or place a link in your email signature.  
Includes Media: Add videos, survey links, or sign-up forms to help your new contact learn about your brand. 
Helps You Stand Out: Because they are relatively new, digital business cards will help you shine amongst your competition and impress your clients. 
Easy To Update: Automatically update your information and media without having to wait for reprints. 
Integrates With Your CRM: You can use a CRM app to save information accessed through virtual business cards and sync the details to help you stay in touch with your contacts. 
Contactless And Quick: Digital business cards are shared virtually, making them the perfect choice for online networking or in-person networking events. 
Once you've decided that you want to capitalize on the benefits digital business cards have to offer,  you'll need to design them properly for maximum professional impact.             
How Do I Make A Digital Business Card?
Business cards are an essential tool for all businesses. They help build your brand, trade contact information and establish yourself within your industry. 
Traditional paper cards are designed to capture the eye and help make your brand stand out from the needle in a haystack pile of basic business cards. 
However, it's costly to change paper cards if you need to update your contact info. So making a digital business card makes sense for professionals who want to save time and money to focus on other essential business tasks. 
There are several ways to make a digital business card. Some people opt to design one in Microsoft Word. Others choose a specially designed virtual business card app to streamline the process. 
Virtual business card apps are great because you can add them to an android or IOS device. This means you can design your virtual card anywhere you can use your iPhone. 
Take a look at the top five apps available to craft a virtual business card that accurately reflects who you are and what matters most. 
The Top 5 Apps To Create Your Own Digital Business Cards 
Digital business cards make a lasting impression. Not only are the design possibilities endless, but they offer many benefits for you and those who receive your card. 
An excellent digital business card app comes with simple directions, templates, and unique designs to use on your digital card, making it easier than ever to design a digital card that represents you and what matters most. 
Here are the best apps you can download from the app store of your choice to start designing a digital business card today that will help you grow your professional network. 
1. KADO Networks 
Overview 
KADO Networks offers a digital business card experience that goes above and beyond for a more intelligent management experience. This digital business card platform provides easy customization for your digital business cards with the ability to share contact info through a QR code or link. 
KADO Networks allows you to import and scan paper cards to instantly add them to your contact list and take notes and record events right in the app. 
Additionally, you can network and engage with other users, making this app incredibly convenient and practical. 
Look For These Features
Branded, Beautiful Digital Business Card Designs 
Contact Management
Business Card Scanner 
Privacy And Access Management 
Private Note Taking
Event Tracking 
Best For 
Professionals from any industry looking to stay connected with their existing contacts while expanding their network to grow their business. 
2. CamCard
Overview
While you can't design your digital business card on CamCard, it can help you stay more organized. 
This business card app allows you to organize and exchange electronic business cards. You can also capture paper cards to manage your contacts. 
CamCard also allows you to smartly manage all cards by adding notations, setting reminders, and tagging specific cards of interest. This makes your networking more productive. 
Look For These Features
Multi-Language Card Reader 
Batch Scan Paper Cards 
Exchange ECards 
Synchronize Cards Across All Devices 
Best For
Professionals looking to organize and manage their existing digital business card exchanges. 
3. HiHello
Overview
HiHello has a free plan that allows you to design and personalize a free digital business card. You can share your HiHello card with any contact, even if they aren't a user of their app. 
This app allows you to seamlessly manage your contacts and convert paper cards into digital contacts in your online address book for easy storage. 
Look For These Features
Easy To Use Card Templates
Share Digital Card With Anyone 
Business Card Scanner
Personalize Your Card
Best For 
Networkers just getting started with digital business cards and contact management. 
4. Switchit
Overview
The SwitchIt app gives you the tools you need to create a virtual business card, manage your contacts, and follow up with potential clients. 
The SMART contact manager allows you to automatically capture contacts, add and edit contacts, and view historical data. 
Switchit offers international messaging and file attachment abilities, which allows you to share valuable resources with everyone you meet. 
Look For These Features
Video Integration 
File Attachment 
Business Card Scanner
Virtual Background For Zoom
Best For 
Professionals who need an easy interface and smooth functionality for their digital business cards. 
5. About.Me
Overview
About.Me lets you convert your webpage into an electronic business card that you can share over email or text. You can customize any of the shareable information on your About.Me page. 
Your new contacts can save your details right to their phone's address book, ensuring your contact information is easily accessible. 
Look For These Features
Professional Domains 
One Link To All Your Information 
Spotlight Button 
Best For: Professionals with limited time to design and share a digital business card.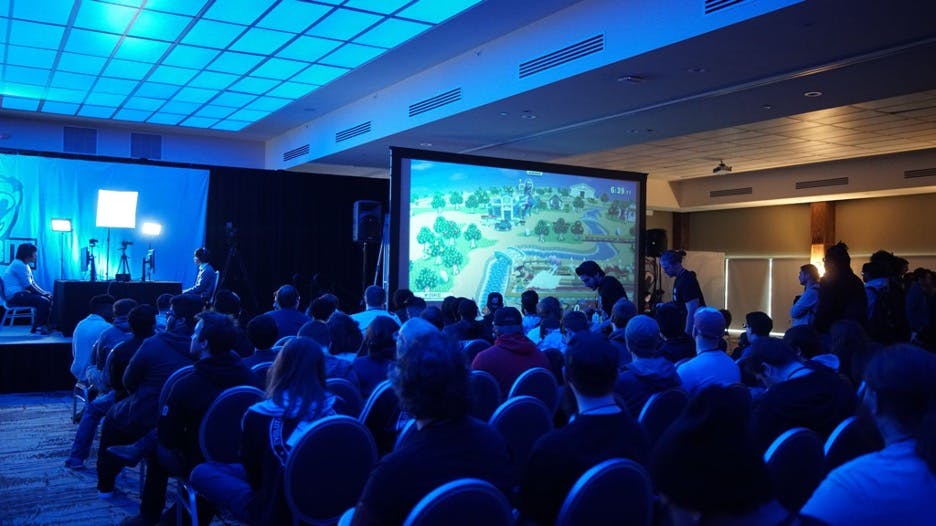 Photo by Stem List on Unsplash
Best Digital Business Card Ideas
The business card you present to a new client or contact is part of the first impression that will help them decide if they want to further the professional relationship. 
This means you want your electronic business card to reflect who you are and what your brand is all about. Here are some ideas for you to consider as you design your virtual business card. 
Consider Functionality
Your digital business card should be designed in a way to make it both informative and functional for your recipients. Choose a layout template that is organized and easy to navigate. 
Choose The Best Color Palette
The colors you choose are a crucial component of business card design. They should reflect your company's branding but be visually pleasing. 
Choose complementary colors that go with your logo and make a statement.  
Find The Best Fonts
Believe it or not, font choice matters. Font choice sets the tone and should communicate what your brand represents. 
Don't forget to choose a font that is easy to read, even on smaller iPhone screens. 
Streamline Your Contact Info
While you may have multiple phone numbers and email addresses, only include one of each. Include the points of contact that you check frequently. 
Make sure your email address is professional and includes your name and your business name to make it easier for contacts to identify you.  
Include A QR Code On Paper Cards
While digital business cards are the future, it's a good idea to carry around a physical business card with a QR code to your virtual card. 
Include your picture, email, and company name on the paper card. Place a QR code on the front that your new contacts can scan with their smartphone to access your official digital business card. 
This allows you to make an impression on more traditional contacts while maintaining the ability to update your contact information as needed quickly. 
Be Prepared For Your Next Networking Meetup With A Digital Business Card
When you create a digital business card on a virtual card app, you instantly have everything you need for your next networking event at your fingertips. 
You can use one of these apps to create, organize, and maintain the contacts and notes you accumulate as you network. 
Anyone with a mobile device can create and share a digital business card. These eco-friendly networking tools are the wave of the future. They demonstrate that you and your brand are up to date on the latest technology and willing to evolve with the times. 
FAQs
What should I bring to my next networking event? 
To succeed in networking, you'll need a way to take notes, a digital business card, and some prepared icebreakers to get the conversation started. 
Where are some places I can go to network? 
If you are looking for new types of networking events, consider attending an industry happy hour, a networking event for a related field, or a charity event attended by leaders in your industry. 
How can I master my next networking meetup?
Master your next networking meetup by preparing icebreakers, setting an end goal, and demonstrating confidence, even if you're outside of your comfort zone!